Issue 92
Particulate expulsions, the viral double whammy, and essential mice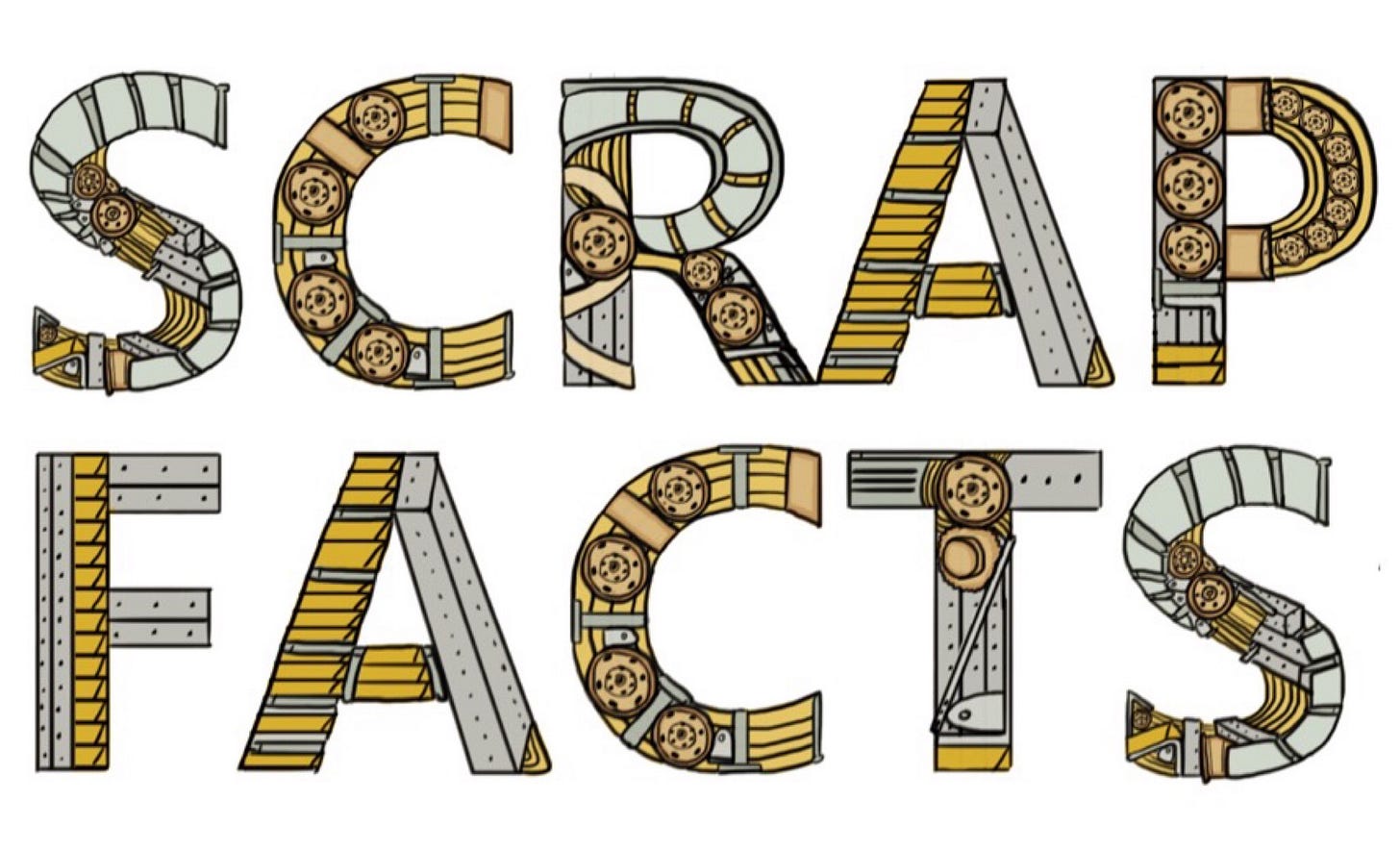 April 19, 2020
Hello friend! Welcome to Scrap Facts.
I'm a reporter covering health and science with insatiable curiosity. I love everything I learn, not all of which gets its own story. Each week, I'll bring you some of my favorite facts that I picked up on the job or while out living life.
Archives from Tinyletter can be found here. Love Scrap Facts? Consider hitting the "like" button, or tell your friends to sign up!
It's not just sneezing and coughing that expel thousands of potentially pathogenic particles.
Found while reporting: Where does the six-foot guideline for social distancing come from?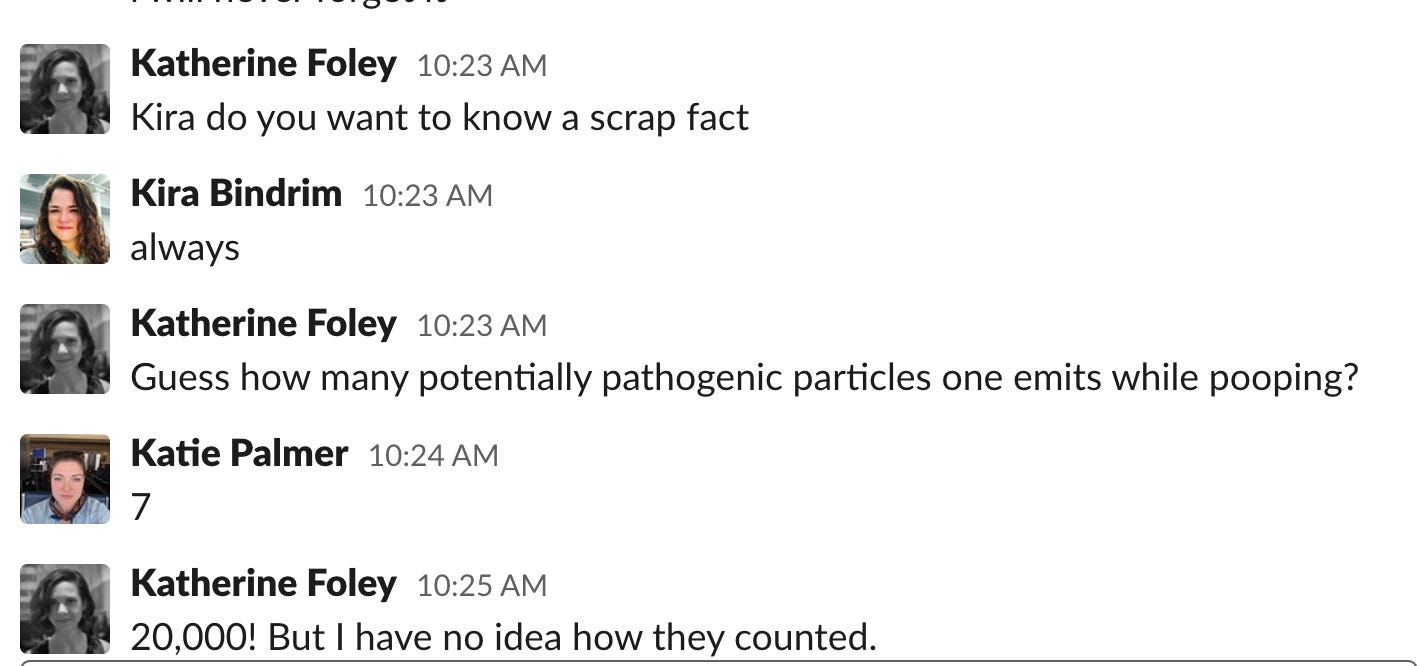 Screenshot from Quartz' slack with my editor (Katie) and one of Quartz' executive editors (Kira).
It's true, folks. In looking at the scientific literature available describing just how far particles can be emitted from the body, I came across this fantastic table in this fantastic review of aerobiology.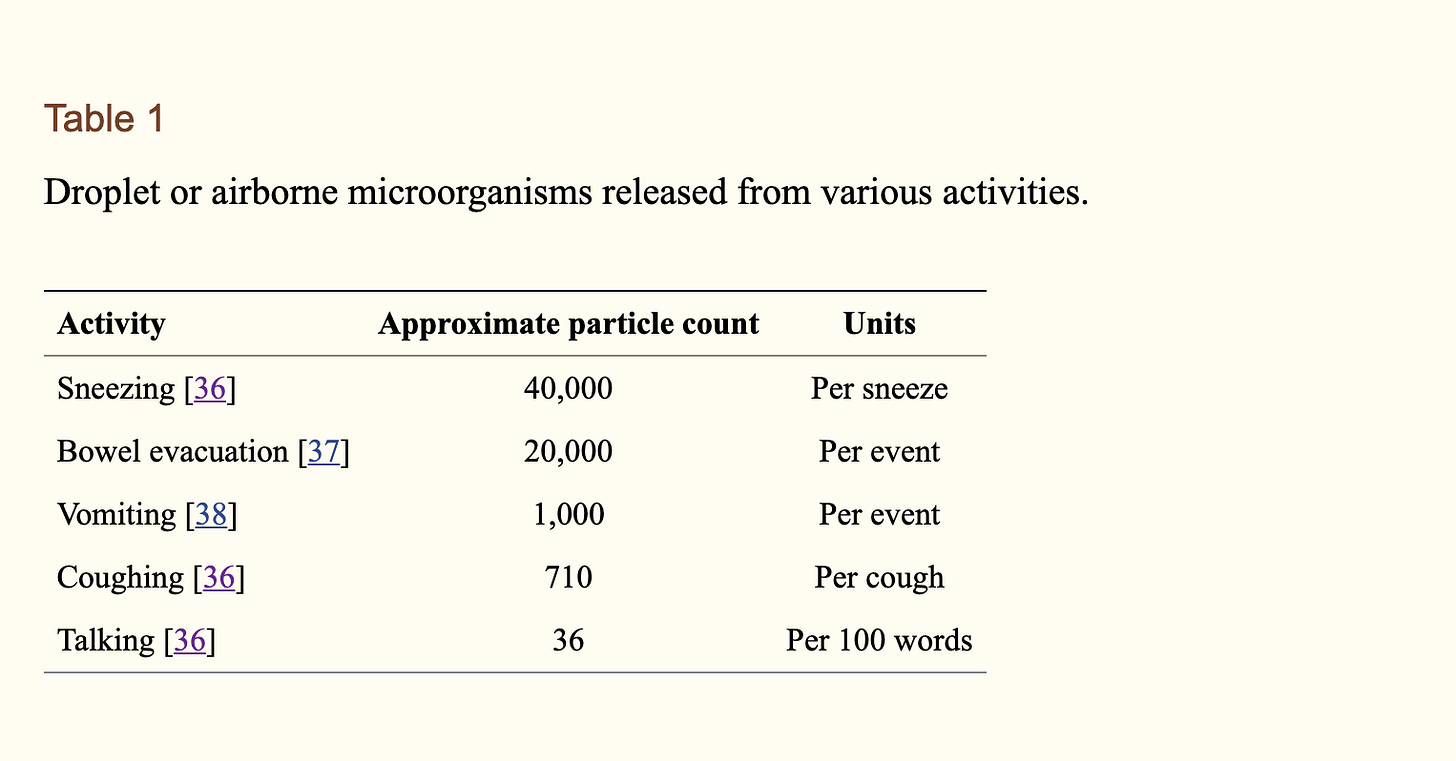 To the best of scientists' knowledge, sneezing is by far one of the most explosive actions our bodies are capable of, in terms of particles emitted. This is why it's particularly important to use your elbow to stifle your sneezes, instead of your hands or letting it out in the open. Coughing could be bad, too, considering that coughing fits usually include several at once. And, this is why, even with normal talking, we need to be wary that there's the possibility that we can transmit potentially infectious particles over time.
Of course, like most of the literature available about disease transmission, none has been tested specifically with SARS-CoV-2. But even so, because there's limited evidence that the virus can be spread through fecal transmission, some doctors are recommending that anyone infected with Covid-19 use their own bathroom if possible, to avoid getting family members sick.
Reporters's notebook: This story started off with a simple question: Why does the US Centers for Disease Control say that 6 feet (2 meters) is the safe distance we should be apart? What is the science that justifies it?
In short, there isn't actually a single paper that serves for the basis of those guidelines. There's a very old one from nearly a century ago that suggests that large droplets, like the ones we emit when we cough and sneeze that carry SARS-CoV-2, can only travel 3 feet. But some studies from the SARS pandemic in 2003 suggested that the virus could actually be spread to people 6 feet away. Because the SARS-CoV-2 virus is so similar to SARS, it seems that the 6 foot guideline will stick.
But the CDC never actually confirmed that for me. I asked them for two weeks to respond to my inquiry about where these guidelines came from. I had a spokesperson tell me to do some other internet reading (which is where I had started), but otherwise: No response. We make all of this clear in the article.
I don't think that makes the CDC any less credible; I think that they've got one of the toughest jobs in the world right now. They're providing information to America, a country where some people have a concept of freedom that means no one can tell them what to do. Already, some people have decided to ignore the national social-distancing guidelines that stop Covid's spread. It seems to me like the agency was worried that if they said there was no specific study to back those guidelines up, no one would listen, which would be incredibly dangerous.
It makes perfect sense that they would come up with that guideline based on the existing science. But for all of us there is a fear of saying "I don't know" when it comes to the specifics of Covid.
A lot of Covid-19 infections come in two waves.
Found while reporting: What scientists know about Covid-19 immunity can help us fight the pandemic.
The first thing that happens to many people who develop Covid-19 is they feel tired. This is similar to what you'd feel with a cold or a flu.
Sometimes, that's it. Mild cases are part of what makes this virus so spreadable—and therefore so dangerous. Unfortunately, for other cases, this is a false sense of security. After a day or so of feeling better, the full effects of the infection take hold: The fever, the aches, the coughing, the GI symptoms—possibly the lack of smell and taste, too.
This is because the immune system works in waves. It has some weapons against viruses, even when it doesn't know what they are: It has T-cells, which attack any virus. But the body only has a limited supply of T-cells. If they're not enough and the infection still is running rampant, the immune system has to try something else, while the T-cells replenish, and antibodies—the more specialized attacks—develop.
In the meantime, the body unleashes its ultimate weapon against invaders: cytokine storm, or a fever and the resulting inflammation. This cytokine storms makes the body inhospitable for the virus. Unfortunately, it is also…not that great for our organs. Fevers feel terrible for a reason, on top of having to deal with all the other havoc the infection is unleashing.
Sometimes, the fever combined (eventually) with the new T-cells and antibodies can finally get rid of it. Other times, it's too much for parts of the body. That's awful. But hopefully, by studying the way the immune system naturally works, scientists can figure out the best ways to intervene with treatments.
Animal of the issue: Genetically modified mice.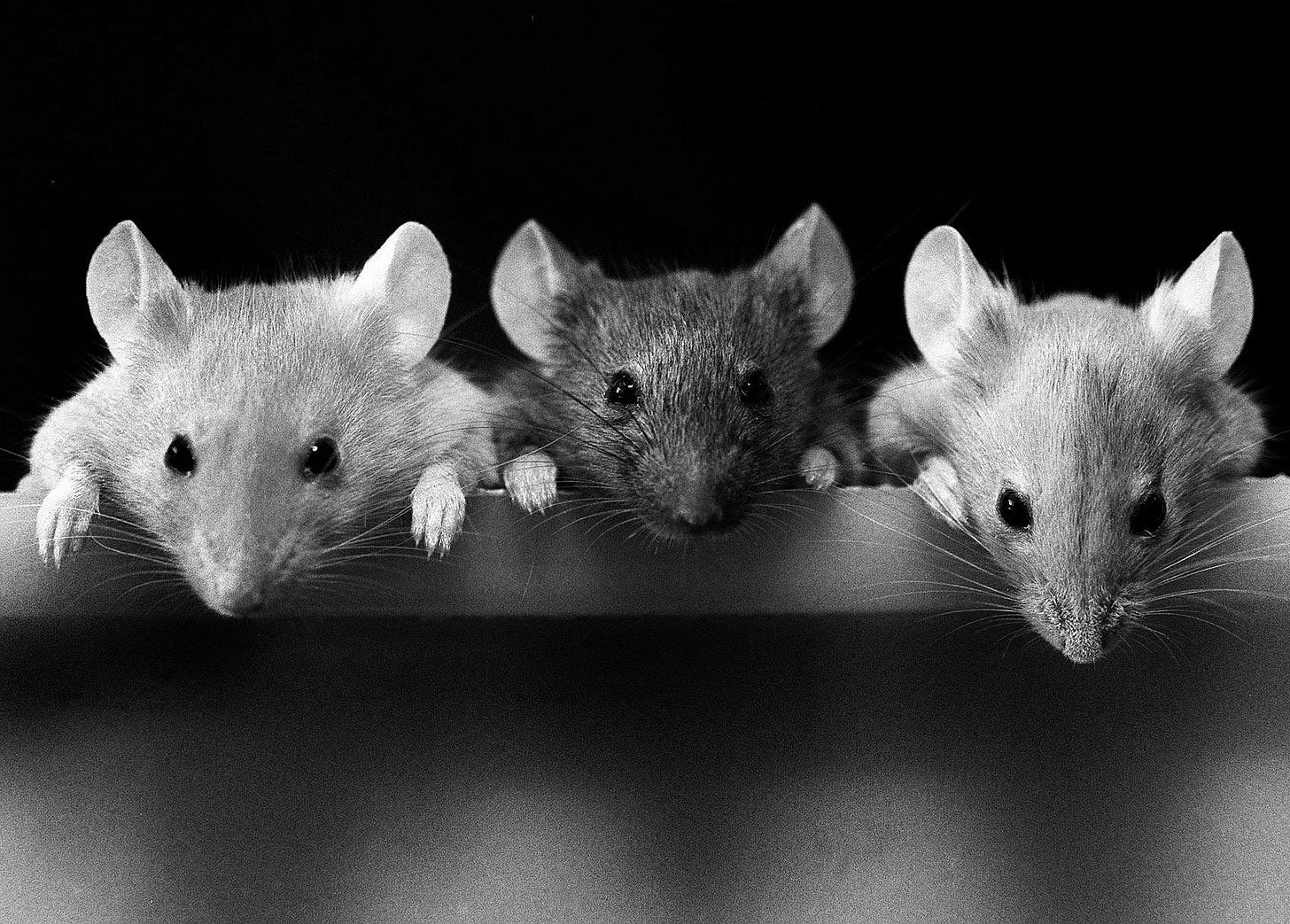 Credit: Getty Images
Ah, the humble mouse: A household pest, cheese enthusiast, and critical tool for the advancement of science.
Genetically modified mice are some of the only areas of scientific research that are still being maintained in the lab. Scientists have been using mice for research on medical conditions for ages. But genetically modified mice to model Alzheimer's are special.
Humans are the only creatures who develop Alzheimer's disease. It's a specific pathology in the brain. It results in buildups of amyloid and tau, followed by inflammation, which ultimately leads to dementia.
The vast majority of Alzheimer's disease occurs in old age. A number of genetic and environmental factors cause it, but scientists aren't sure what these are. Mice are great models for this, because they only take two years to reach their version of old age, and their neurological systems are comparable to ours.
They also can be genetically modified. Scientists can take mouse embryos (think IVF for mice) and insert mutations known to be related to Alzheimer's in humans. When the pups are born, scientists can selectively breed them together to make sure that their offspring have the same mutation, and then perform the same IVF + gene editing procedure again, and so on. Eventually, the mice have four or five mutations associated with Alzheimer's.
It takes about two years to breed and edit the right mouse, and then two years for that mouse to age. Halting research now would put researchers back all that time. So that's why researchers and lab technicians are still going in, one at a time, to care for these genetically modified mice, to keep them alive during this time. You can read the full story here.
Hey, real talk: This time sucks. I'm having a hard time, too. But I'm focusing on trying to even out those peaks and valleys when I can. I don't have any advice — there's lots of that going around online. I just wanted you to know you're not alone.
That's all for now—stay curious, friend ❤️
If you love Scrap Facts, consider hitting the "like" button at the bottom of this page, or sending it to a friend. You can also send your own scrap facts to scrapfacts@gmail.com to be featured in future editions. Wanna keep in touch outside of this newsletter? Follow me on Twitter and Instagram.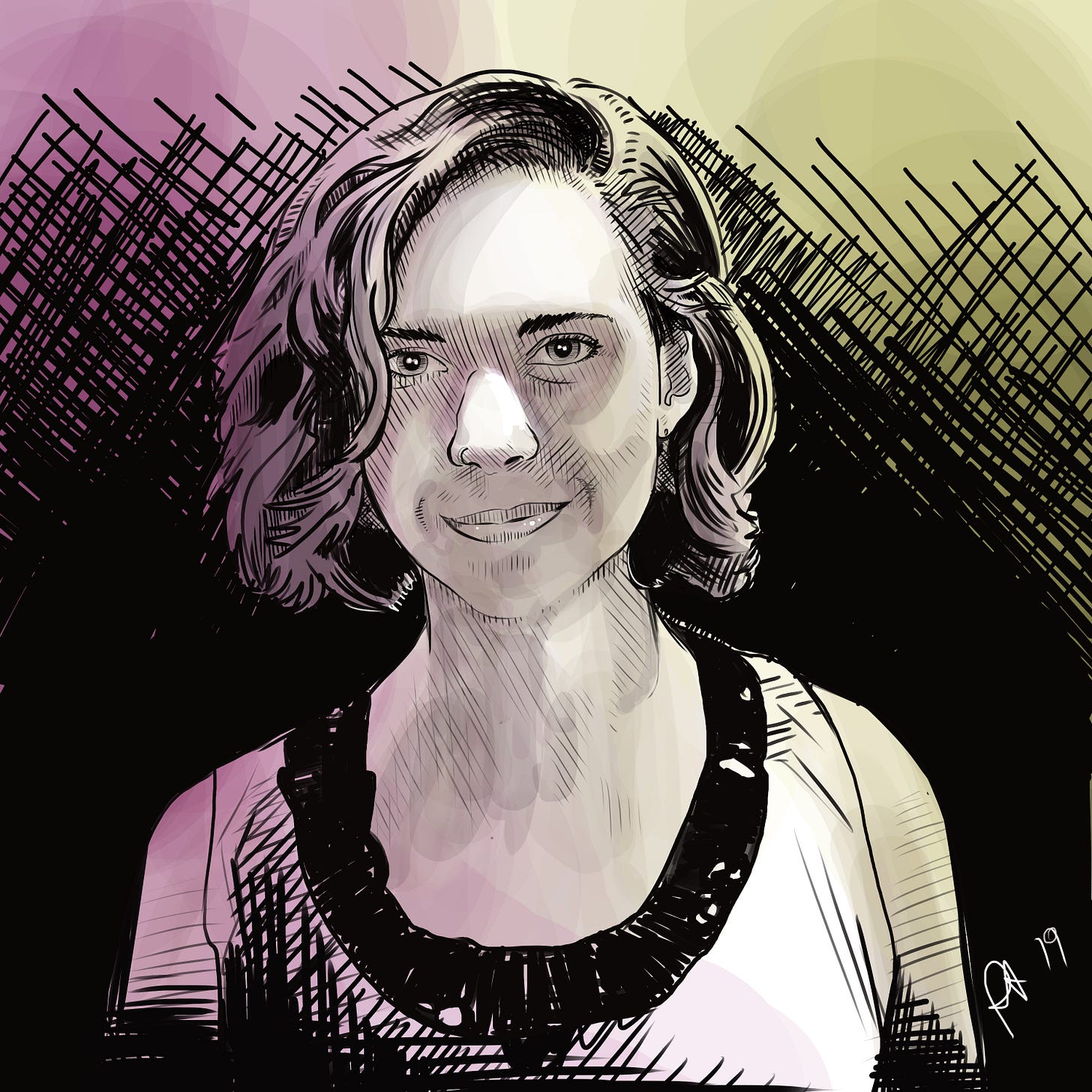 Top image by E. Y. Smith, headshot drawing by Richard Howard.